Guerlain Terra Inca Mosaic Compact is a new addition to Guerlain's Terracotta Collection. It is limited edition and retails for $69USD. This weighs 0.98 oz, almost twice the size of Guerlain's previously released Terra Inca Sublime Radiant Powder (0.51 oz). I also did an in-depth review of Terra Inca
here
.
The packaging for Mosaic is much simpler with a sturdy plastic compact. This also does not contain a mirror or a brush.
The compact is rather large compared to the palm of my hand.
mosaic of sun-kissed shades with ochre and gold tones to illuminate your tan. Apply Terracotta Mosaic to face, shoulders, neck and décolleté to enhance any tan with a subtle shimmery effect ".
When I look at this design, I am somehow reminded of cobblestone streets in Europe. There is something rather romantic about the Mosaic.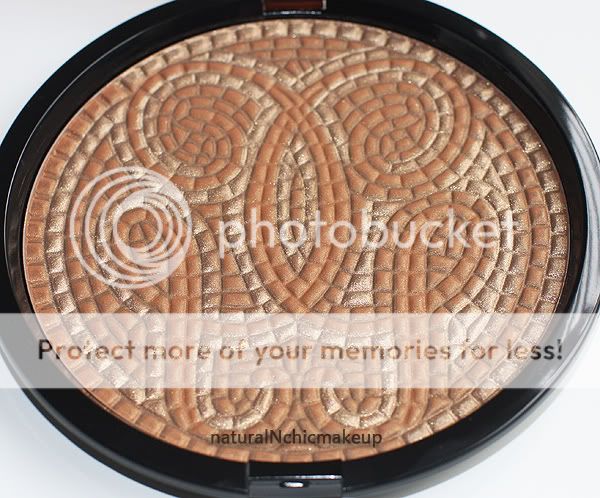 Judging from the pan alone, Terra Inca looks more pink compared to Mosaic. This is true to swatch as well. Mosiac is brown with gold shimmer whereas Terra Inca is a frosty pink brown.
Mosaic is not as frosty compared to Terra Inca but the shimmer is obvious once applied on the skin. However once all of the gold overspray disappear, you're left with a soft satin finish bronzer with subtle shimmer. Below are swatches by window sunlight.
Overall, I actually like Mosaic since it is pigmented, wearable, and has a gorgeous design. It is not cheap at $69USD but you do get a lot of product. It is very different compared to Terra Inca Sublime Radiant Powder in design, texture, and packaging.
Bottom Line
: Without a doubt, this is a collector's item. If you're on a budget, you may want to check out Guerlain's lower priced bronzers. If you don't like a shimmery bronzer, this may not be for you. Those who are not on a budget and want a wearable bronzer that provides a soft, subtle glow, definitely check out Mosaic.
Is Mosaic a yay or nay for you?